SURVIVING ADVERSITY:
living with Parkinson's disease
What do a professional golfer, neurologist, acclaimed lawyer, children's author, nurse, legendary cyclist, former Attorney General, highly respected news anchor and 20 other men and women have in common? They are all living with Parkinson's disease.
Surviving Adversity: living with Parkinson's disease contains 28 profiles of individuals who share their inspiring stories of how they have adjusted to Parkinson's disease. This book will provide readers with perspective and hope.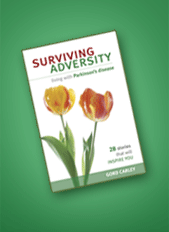 One of the most popular profiles in the book
(Chapter 28 – Bill Barnewitz) can now be read for FREE.
SURVIVING ADVERSITY:
The Collection
What is the common thread between a rock star, a former vice-presidential candidate, a competitive racecar driver, a hijacking victim, an All-Pro wide receiver, a falsely imprisoned man, a prisoner of war, and 25 other women and men?
Surviving Adversity: The Collection contains 32 inspirational stories of people who have battled addiction, literacy, financial hardship, physical handicaps, cancer, faced the death of loved ones, or endured racism and other situations. Each profiled individual also shares their advice from lessons learned.
Two of the most popular stories in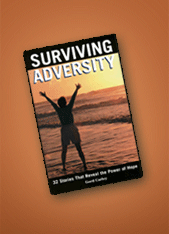 the book can now be read for FREE.