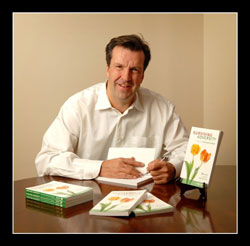 Gord Carley is uniquely qualified to write about adversity. At the age of 26, he sold a publishing business for just under one million dollars. He immediately started a new business that struggled from day one and ate into his savings. Four years later, he was over $200,000 in debt.
After years of struggling financially, he managed to avoid bankruptcy and completely repay all of his creditors. This experience led him to research how others overcame daunting challenges and to see if there was a common thread to their experiences.
Gord Carley and his wife are the proud parents of two lively children. Next to his family, he regards the books, Surviving Adversity: The Collection and Surviving Adversity: living with Parkinson's disease, as his most meaningful achievements. "I hope the books will benefit anyone who is facing difficult times. The 60 individuals profiled in the two books have opened their
hearts in the belief that their stories can provide others with hope and perspective."
His latest book, Surviving Adversity: living with Parkinson's disease was motivated by his mother's ongoing battle with Parkinson's disease.
He hopes that you will find the following profiles uplifting and that the advice offered in the books is beneficial and helps you to conquer life's challenges.
For other tips on Overcoming Adversity please visit www.tipmine.com